– 400-002 – CM-101/102 Healing Clinic
Free Spiritual Healing Clinics
We are excited to extend a special opportunity to enhance your psychic journey. As part of your course, you are invited to attend our Spiritual Healing Clinics. These angel healings are conducted by students enrolled in our Clairvoyant Healing 101 Class and higher. They aid in your psychic awakening by cleaning out and repairing your aura, chakras and energy channels. During these 15 minute sessions, your assigned healers will use their angel guides to release stuck pain and bring more of your own gold essence into your body. You will find yourself refreshed, recharged, and revitalized.
Three Free Spiritual Healing Clinic sessions are available to all enrolled students and can be applied by clicking the yellow coupon, accessible when logged into your Psychic School account, upon checkout. Appointments are subject to availability and your coupon expires seven (7) days after the course concludes.
Book Your Free Healings
Click Yellow Coupon in Checkout
Must Be Logged Into Your
Psychic School Account
How to Schedule
Click – Spiritual Healing Clinic
Select – Choose a DATE and TIME
Click – BOOK NOW
Login – As a returning customer, LOGIN
Click – YELLOW COUPON in Checkout
Confirm – Customer Details
Click – FINALIZE ORDER
NOTE: Be sure to log into My Account with the email you used to register for this course. The yellow coupon used for scheduling a free healing appointment is only visible in checkout when logged in. If you are unable to schedule your healing appointment for free, please email us at info@psychicschool.com for assistance.
How can I double check the dates and times listed are accurate to my location?
The dates and times listed in your online classroom are based on your detected location, as well as our timezone for added clarity. If your detected location is inaccurate, please use Time and Date Converter to calculate the correct dates and times for you.
Visit – Time and Date Converter
Enter – Los Angeles
Enter – Los Angeles Date
Enter – Los Angeles Time
Enter – Your City or Timezone
Where can I find the yellow coupon and how do I apply the free discount?
Your free coupon is linked to your Psychic School account and is only visible when logged in., The yellow coupon will appear during checkout, after you have visited Angel Healing in the Spiritual Healing Clinic, selected a DATE and TIME, and clicked BOOK NOW. On the checkout page (COMPLETE YOUR REGISTRATION), you will see your yellow coupon, simply click on it to apply the discount.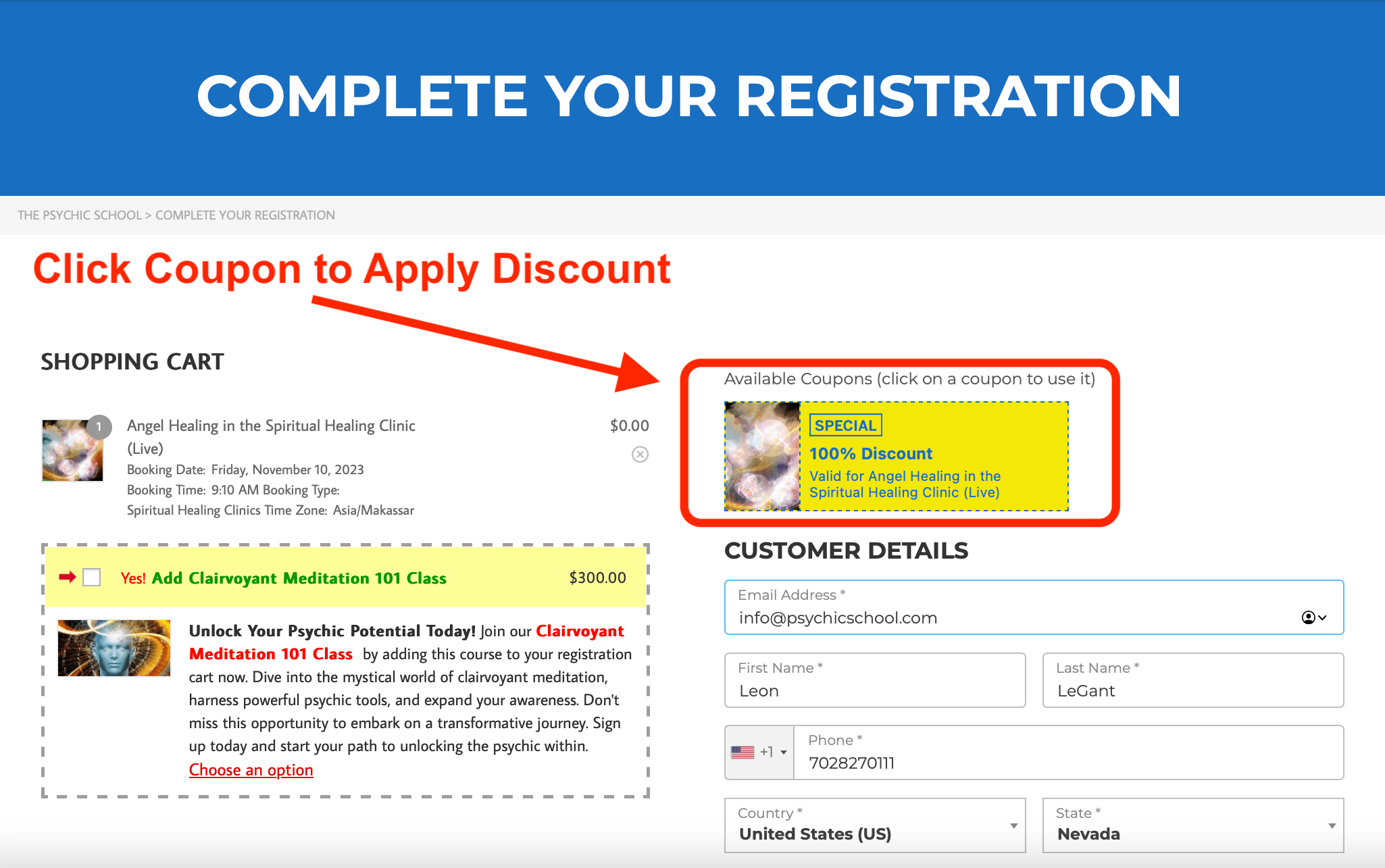 What come next after booking an appointment?
After booking an appointment, you will receive a confirmation email containing everything you need to call into your session, including the date and times of your appointment and the conference number and access code. A second reminder email will be sent 24 hours before your appointment it insure you remember and have the information required to attend.
Which conference service is used for attending Spiritual Healing Clinics?
The Psychic School uses Zoom to conduct all of our classes and courses and Free Conference Call to conduct all of our psychic services, including readings, healing clinics, and energy checks.
To attend Spiritual Healing Clinics, please use Free Conference Call.
How do I attend Spiritual Healing Clinics using the Free Conference Call App (FCC)?
Here are the general steps to attend Spiritual Healing Clinics using the Free Conference Call App (FCC):
• Download the FCC app for a smartphone or a computer using the links above.
• Open the FCC app and click on Join a Meeting.
• Enter the Meeting ID provided above.
• Follow the on-screen instructions to connect.
What if I don't want to use the app? Can I attend via telephone?
Yes, you can attend the Spiritual Healing Clinic using a standard telephone. The US and UK phone numbers are listed above. Additional international telephone numbers can be found in the Healing Call-In PDF posted above. Just dial a local number, enter an access code when prompted, and you'll be connected to the conference.
How should I prepare before calling into the Spiritual Healing Clinic?
Before connecting to the Spiritual Healing Clinic, ensure you have a stable internet or telephone connection and have already installed the Free Conference Call App (FCC) if you are planning on attending using that option.
Find a quiet room, create a sanctuary for yourself where you can be alone and uninterrupted for the duration of the healing clinic. Locate a comfortable chair so your body can be relaxed and at peace during the guided meditations. As always, eliminate distractions by notifying others at home that you wish to be alone for a few hours.
If you are performing healings on others with your Healing Masters, position your chair so that you may walk around it as you give guests, whose spirit will be placed in the chair, a healing.
How often do I need to attend the Spiritual Healing Clinic?
Program students are required to attend at least one Spiritual Healing Clinic per month, although you are more than welcome to attend more. If you are new to The Clairvoyant Training Program and do not yet have a Healing Master, you will be a healee. At some point, students in the Intermediate Program will receive a Healing Master and individuals in the Clairvoyant Healing 101 Class and Clairvoyant Healing 102 Class, both required to graduate from The Clairvoyant Training Program, will already have Healing Masters. Once a Healing Master is assigned to you, you will become a healer and heal yourself by giving healings to others.
We are aware that some students may not be able to attend the Spiritual Healing Clinics due to time conflicts. If this is the case for you, please contact info@psychicschool.com and let us know so we can issue you a pass.